This post may contain affiliate links - using affiliate links from Homeschool Coffee Break helps fuel this blog and our homeschool - thank you!
In our homeschool...
It was another week of plugging away at unfinished business like Landon's History and Algebra, and working on some newer things like the
Illuminating Literature curriculum from Writing with Sharon Watson
with Kennady. We'll be reviewing that later this summer. We just got set up with a math help website called Stinky Kids math that both kids will be referring to over the next little while so we can review that too. I got Switched-On Schoolhouse set up on the second computer, and now I just need to remember to finish the job and get the Consumer Math assigned so Landon can start working on that whenever he feels like it.
I'll be reviewing a book from
Classical Conversations
next week, and I'm also busy getting my lesson plans and other school information into
Homeschool Tracker online
so I can share a full review of that in a couple weeks too!
In other news...
we had a whole week of warm weather, perfect for making use of the pool! We used our own pool, and on Sunday and Wednesday we were invited to pool parties so the kids could swim with their friends as well. Here they are in our little hillbilly one. Acting silly, of course.
Also very nice for seeing sunrises and sunsets...
and even for viewing a huge, beautiful full moon.
Kennady and I both got to spend Tuesday evening with friends, and she got the idea that it would be fun to paint her face to look like a cat. She's done it several times this week. I can't even... this girl...
And the reason I'm posting this so much later than usual - Sunday instead of Saturday - is that Saturday was our anniversary, so the hubster and I spent most of the day driving around and antiquing. We called it the 28th Anniversary Tour.
34 Weeks of Clean...
I've been participating in a weekly challenge and link-up at
Family, Faith, and Fridays
and our assignment was the computer. And the previous week we were supposed to tidy up our paperwork and bills, which I am still *ahem* working on. There really aren't pictures of the cleanup done on the computer, but I'm working on purging all my unnecessary photos and saving the old ones to CD and getting them off the hard drive. And what was with all the old documents and emails still in files? They are gone too. And I think I can clean up some more as well.
For Week 31, the assignment is to update our address book and do an office deep clean. Yes, I need to do that too! For the details of the assignment, go to
Family, Faith, and Fridays
. Join in if you haven't already, and check back next week for our progress!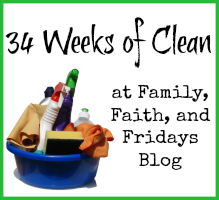 I recommend...
joining us on the
Virtual Refrigerator,
where we'll be doing some artist studies for the link-up over the next couple of months. Each of the hostesses will be taking the lead on those studies for a month, and I will be doing the month of August. Kennady and I will be doing some artist studies and projects based on Modern Art. Can you guess who one of her favorites is, based on her artwork from this week?
On the bookshelf...
The Unknown Ajax
by Georgette Heyer
The Conversation
by Leigh A. Bortins
Anne of Green Gables
by L.M. Montgomery (
Anne of Green Gables Collection (for Kindle)
)
Swept Away: A Fairwilde Reflection Regency Fairy Tale
by Vanessa Riley
The Fatal Tree (Bright Empires)
by Stephen R Lawhead
Lady Maybe
by Julie Klassen
This week I posted my review of
A Study in Death (A Lady Darby Mystery)
by Anna Lee Huber. (
Read it here!
) You can also check out other book-related posts on my book blog,
Just A Second.
A parting shot...
It was Christmas in July at my favorite local coffee roastery,
Furnace Hills
(you can order from them online too!), so I could get some Christmas Blend, which is my favorite! And some of their Decaf, which is seriously the only Decaf that I like.

Don't miss a coffee break!
Subscribe to Homeschool Coffee Break by Email!
©2006-2015 Homeschool Coffee Break. All rights reserved. All text, photographs, artwork, and other content may not be reproduced or transmitted in any form without the written consent of the author. http://kympossibleblog.blogspot.com/