This post contains affiliate links - using affiliate links from Homeschool Coffee Break helps fuel this blog and our homeschool - thank you!
Welcome to another edition of the Virtual Refrigerator! This weekly blog hop is co-hosted by
A Glimpse of Our Life
,
Angels of Heart
,
Homeschool Coffee Break
, and
Every Bed of Roses
. We all cordially invite you to add your link sharing the art that's on your Virtual Refrigerator and then hop over to the other blogs and admire what's on their Fridges!
We have just taken a break from art, because Kennady finished the unit she was working on in the ARTistic Pursuits book that we were reviewing, and because I really needed her to focus on Science. (You know how I do that? By telling her she can DRAW her science notebooking assignments. *sigh* Whatever works!) So without anything new to put up on the Fridge today, I thought I might share a little gallery of our past projects and mention our favorite art resources.
Just a couple of days ago, I shared our review of one of the new art instruction books from
ARTistic Pursuits
. You can read that entire review here:
ARTistic Pursuits Sculpture Technique
There are two new sculpture technique books for students ages 11-18, and we tried out a unit in the book Construct about working with cardboard to create 2-D and 3-D models.
ARTistic Pursuits is definitely our favorite art curriculum and resource. We have
previously reviewed Middle School 6-8 Book Two: Color and Composition
, which focused on drawing with chalk pastels.
We have also used - and will use again! - Middle School 6-8 Book One: The Elements of Art and Composition, focusing on sketching and drawing...
High School 9-12 Book One: The Elements of Art and Composition, with more advanced sketching and drawing....
and I've also got High School 9-12 Book Two: Color and Composition, ready to go once we've completed all the others!
Another art instruction resource we've enjoyed is See the Light, which we reviewed last year. (
See our full review here
.)
I've shared before about a book called
Geography Through Art
that is another favorite (
My Favorite Geography Resource
), combining the study of art and folk art with the study of geography.
"Ivory" chessman (Scandinavia), Egyptian heiroglyphs, Chinese paper-cutting,
Chinese calligraphy, African animals, Old English style sign (pictograph),
Ukrainian Easter Egg
Above are some of the animal sketches from the book, and below is a finished
Retablo Art
project that I featured on the Virtual Fridge earlier this year.
For a more "practical" approach to art, we have enjoyed books on technical drawing and graphic design from Insight Technical Education. (See my post:
I is for Insight Technical Education
)
Blogs and websites that are helpful for art instruction and study:
Incredible @rt Department
- free art lessons for preschool through college level
SchoolhouseTeachers.com
- art lessons and so much more!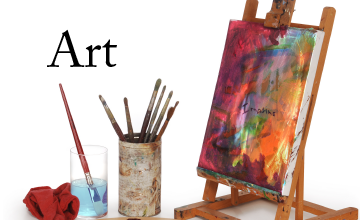 SchoolhouseTeachers.com Art Department
Arty Factory
- more free lessons in art and art appreciation
Harmony Fine Arts at Home
- blog with art lessons
You can grab the button above and add it to your post. Add your link here to share your child's art or your arts and crafts how-to posts. Please visit the other blogs and admire what's on their Virtual Refrigerators!
This post is also linked to the
Art in Our Homeschool Round-up
on the
Homeschool Review Crew blog.
Don't miss a coffee break!
Subscribe to Homeschool Coffee Break by Email!
©2006-2017 Homeschool Coffee Break. All rights reserved. All text, photographs, artwork, and other content may not be reproduced or transmitted in any form without the written consent of the author. http://kympossibleblog.blogspot.com/