This post contains affiliate links - using affiliate links from Homeschool Coffee Break helps fuel this blog and our homeschool - thank you!
Welcome to the Virtual Refrigerator art link-up! Thank you for joining me and my co-hosts as we all share what we're creating in our homeschools. We all cordially invite you to add your link sharing artwork that's on your Virtual Refrigerator and then hop over to the other blogs and admire what's on their Fridges too! The Virtual Fridge link-up is open all month, and we plan our anchor posts for each Wednesday.
I've got something a little different to share on the Virtual Fridge this week. Usually I'm sharing my daughter's artwork, but today I'm also sharing something I created! What?! I know - crazy.
On Saturday, Kennady and I went to a paint brunch hosted by the ladies group at our church. Kennady has plenty of experience painting, but as for me . . . well, not so much. In fact, I'm pretty sure I haven't painted anything other than a wall since I was in grade school. So I was a little nervous that I would be completely inept, and in a group setting too. I'd say that about a third of the ladies that attended felt rather like I did - unsure and just a bit embarrassed. But every finished piece looked so pretty - each a little different, of course, but all were lovely.
This was the easy part!
Of course, we all had to pose with our paintings.
Guess what I messed up? It was all good and I was really happy with it until I tried to sign it. That's when I messed up. *sigh*
Daisies by KAT, March 2017
Daisies by Kym, March 2017
Now it's your turn! Join us by sharing your art posts here on the Virtual Fridge, and please grab our button for your post to help spread the word!
Grab a virtual magnet and add your link here to share your child's art or your arts and crafts how-to posts. Please visit the other blogs and admire what's on their Virtual Refrigerators!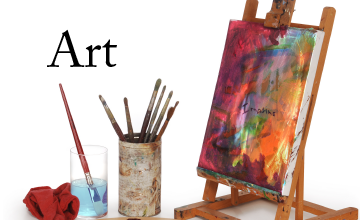 Don't miss a coffee break!
Subscribe to Homeschool Coffee Break by Email!
©2006-2017 Homeschool Coffee Break. All rights reserved. All text, photographs, artwork, and other content may not be reproduced or transmitted in any form without the written consent of the author. http://kympossibleblog.blogspot.com/