This post contains affiliate links - using affiliate links from Homeschool Coffee Break helps fuel this blog and our homeschool - thank you!
Welcome to Homeschool Highlights!
This weekly link-up is your opportunity to share some highlights of what is happening in your homeschool and in your world each week. If you write a wrap-up post at the end of each week, like I've been doing, we'd love to see what you're busy with from week to week. If you'd like to pick a favorite post from your week that spotlights a resource or activity in your homeschool that you'd like to tell others about, we're interested in those too. I'm keeping the guidelines as simple as I can, and they will appear at the bottom of each post, along with the link tool. I look forward to getting to know you, and I hope this will be a source of encouragement and good ideas for all of us.
Homeschool news . . . With today being Good Friday, I'm going to be rather brief in summarizing this week's news of homeschool and other things. We did have a pretty good week of school, working mainly on Math, History, Music, and Art. We've got the High School Essay Intensive from IEW to work on, and we'll also need to really focus on getting caught up in Science. Personally, I'm behind on grading, and I'll need to find some time to work on my end of things - hopefully next week!
Other news . . .
the hubster got home from his trip last Friday, and we spent Saturday running about and getting back into routines. He spent most of his day at work, as did Spencer, while Landon had a Civil Air Patrol meeting. Kennady went with me to meet an online friend who was passing through the area, and then we did some shopping.
Got to meet up with my friend Heather on Saturday
Sunday after our morning service, we helped pack and deliver "Easter baskets" as part of our outreach efforts.
The week was a full one, with meetings, choir practices, work, shopping, and even our Easter Eggstravaganza event at church on Wednesday evening.
I recommend . . .
The annual Homeschool Review Crew 5 Days of Homeschool Blog Hop which begins on Monday. Crew members are writing articles on the homeschool-related topic of their choice, so you're sure to find something to encourage and inform no matter where you are on your own homeschool adventure.
Keep track of the entire Blog Hop by checking in at the
Homeschool Review Crew Blog
where you'll find all the
5 Days of Homeschool
posts.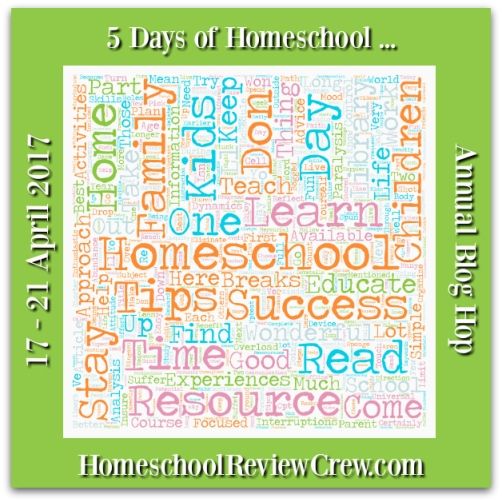 On my blogs last week . . .
And on my book blog,
Just A Second
:
Hope in the Dark by KAT, February 2015




Scripture and a Snapshot - Good Friday 2017
Recent Reads - Shepherd, Potter, Spy and the Star Namer
What I'm Reading - April 10, 2017
Scripture and a Snapshot - Palm Sunday 2017
Just A Second
is where I share book reviews and other book-related things, and update on what's on my bookshelf. This week I shared an excerpt of my review of
Shepherd, Potter, Spy and the Star Namer
by Peggy Miracle Consolver there. And
I
've been reading:
The Secret Bridge
by Amy Le Feuvre
The Trees Will Clap
by Bonnie Mae Evans
In Farleigh Field: A Novel of World War II
by Rhys Bowen
All in Good Time (The Gilded Legacy)
by Maureen Lang
A parting shot . . .
Not long ago, the goldfinches finally found our bird feeder. They are trying their best to eat us out of house and home!
And the cats are fascinated.
Grab the button and link up with Homeschool Highlights!
Homeschool Highlights guidelines:
Your blog should be family-friendly content, and your post should include something about homeschooling.
Please link directly to your post, not your blog's homepage.
Please include a link in your post to Homeschool Coffee Break - you may use the graphic above if you wish.
Visit a couple of the other bloggers and comment or share.