This post contains affiliate links - using affiliate links from Homeschool Coffee Break helps fuel this blog and our homeschool - thank you!
Welcome to the Virtual Refrigerator art link-up! Thank you for joining us as we share what we're creating in our homeschools. We cordially invite you to add your link sharing artwork that's on your Virtual Refrigerator and then hop over to the other blogs and admire what's on their Fridges too! The Virtual Fridge link-up is open all month, with anchor posts planned for each Wednesday (although during the summer, that may not always happen!).
My artist is working a summer job, so I'm digging up some cool projects from our Virtual Fridge archives for the next few weeks. Once we're back to a regular school schedule, I hope I'll have new art from her to display, but to be honest she's not planning on doing Art for credit, so it will depend how much time she has to dabble in it as a hobby. If you're a fairly regular contributor to the Virtual Fridge, would you be interested in joining in as a co-host? If that sounds appealing to you, please email me for more information.
A couple of years ago, the Virtual Fridge hosts presented some artist studies, and we picked some modern artists to feature during our month. The first one we looked at was a favorite of Kennady's - Piet Mondrian. He was a Dutch artist who lived and worked in Netherlands, in Paris, in London, and in New York City. He started out painting landscapes and still life, then after being introduced to cubism, his style changed and eventually became very abstract and different from other artists. His ideas of abstract art were even simpler than focusing on colors, shapes, and designs. He refined his art to grids of lines and primary colors, which he called 'Neo-Plasticism'. He and a small group of like-minded artists founded an art movement known as De Stijl and applied these ideas to architecture and industrial design.
Mondrian's simple and striking style has been extremely influential in modern art and design.
Composition in Red, Blue, and Yellow
is probably the best known example of his work. This is
Composition V
, which we viewed at the Baltimore Museum of Art. See more about our field trip here:
Baltimore Museum of Art
)
Composition V by Piet Mondrian, 1927.
Baltimore Museum of Art
Here's the simple Mondrian inspired project that we featured two years ago. It could be done by artists of all ages and abilities. (Very young artists should have an adult help them, though!)
Open up a cardboard cereal box and trim the edges, then use a straight edge to draw vertical and horizontal lines on the back of the box. Cut strips of corrugated cardboard and glue them onto the patterns.
Cover the cardboard with heavy duty aluminum foil. Use a glue stick or brush white glue all over the dull side of the foil and then smooth it down over the cardboard. Use a felt square or a washcloth to rub and smooth the foil down so the grid pattern is in relief. Be especially careful not to slice the foil as you press against the cardboard strips. Then use a black permanent marker to color the grid.
Use red, blue, and yellow permanent marker to color in a few of the squares. Use permanent marker, like Sharpie, so that the color doesn't rub off the foil. Even so, be careful where you place your hand, and we recommend giving each color a few minutes to 'set' before doing the next, or touching it.
Composition in Foil and Marker by KAT, August 2015
This post is adapted from my original Virtual Fridge post on August 6, 2015 -
Virtual Refrigerator - Piet Mondrian -
and my original Blogging Through the Alphabet post on February 12, 2017 -
De Stihl.
Now it's your turn! Join us by sharing your art posts here on the Virtual Fridge, and please grab our button for your post to help spread the word!


Grab a virtual magnet and add your link here to share your child's art or your arts and crafts how-to posts. Please visit the other blogs and admire what's on their Virtual Refrigerators!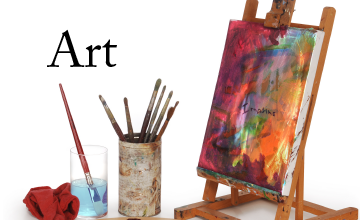 Don't miss a coffee break!
Subscribe to Homeschool Coffee Break by Email!
©2006-2017 Homeschool Coffee Break. All rights reserved. All text, photographs, artwork, and other content may not be reproduced or transmitted in any form without the written consent of the author. http://kympossibleblog.blogspot.com/