This post contains affiliate links - using affiliate links from Homeschool Coffee Break helps fuel this blog and our homeschool - thank you!
Welcome to the Virtual Refrigerator art link-up! Thank you for joining us as we share what we're creating in our homeschools. We cordially invite you to add your link sharing artwork that's on your Virtual Refrigerator and then hop over to the other blogs and admire what's on their Fridges too! The Virtual Fridge link-up is open all month, with anchor posts planned for each Wednesday.
My daughter loves so much about Halloween, and I'm not sure why, but I suspect that in large part it's the creative aspect of face paint and costumes. Because she does like to paint up her face just for fun. She's never learned anything about stage or special effects makeup, and when she decides to spend some time doing this kind of makeup, it's usually on an evening where she's not even leaving the house!
Her version of Pennywise, which she calls "Kennywise"
Our Halloween event was Trunk or Treat at our church last Wednesday. That was her big chance to get in costume. She decided to do Peter Pan, since she had the perfect hair for it!
DIY Peter Pan hat by Kym, October 2017
Peter Pan costume by KAT, October 2017
She hasn't been feeling great, and didn't have a Halloween party to go to yesterday, but she decided to try another face paint look anyway.
Sugar Skull by KAT, October 2017
Sugar Skull by KAT, October 2017
Sugar Skull by KAT, October 2017
Artwork isn't always on paper! Did your kids do something creative you'd like to share?
Now it's your turn! Join us by sharing your art posts here on the Virtual Fridge, and please grab our button for your post to help spread the word!
Grab a virtual magnet and add your link here to share your child's art or your arts and crafts how-to posts. Please visit the other blogs and admire what's on their Virtual Refrigerators!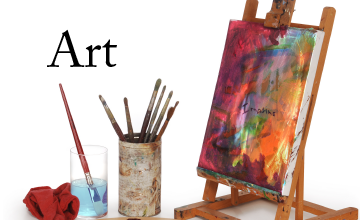 Art Courses at SchoolhouseTeachers.com




Don't miss a coffee break!
Subscribe to Homeschool Coffee Break by Email!
©2006-2017 Homeschool Coffee Break. All rights reserved. All text, photographs, artwork, and other content may not be reproduced or transmitted in any form without the written consent of the author. http://kympossibleblog.blogspot.com/