This post contains affiliate links - using affiliate links from Homeschool Coffee Break helps fuel this blog and our homeschool - thank you!
Welcome to the Virtual Refrigerator art link-up! Thank you for joining us as we share what we're creating in our homeschools. We cordially invite you to add your link sharing artwork that's on your Virtual Refrigerator and then hop over to the other blogs and admire what's on their Fridges too! The Virtual Fridge link-up is open all month, with anchor posts planned for each Wednesday.
I found it hard to believe when Kennady told me she'd never drawn human figures before. At least not in recent years. But I suppose she's right - I can remember mostly cartoon style figures. So she's got on her wishlist to work on drawing more realistic faces and figures. But in the meantime, this is sort of a transition - still a cartoon-type drawing, but moving towards slightly more realistic proportions. It's also a project done using some new markers that arrived for her to review!
KAT, January 2018
Believe it or not, apparently this is the very first time she's used a basic sketch like this for a human figure! So she gave me the progress pictures for this drawing too.
sketch, KAT, January 2018
drawing progress photos by KAT, January 2018
Obviously she started sketching in pencil, but all the colors and details (with the exception of the fine detail on the face) were added using
Magic Stix Washable Markers.
We recently received a set of 24 of these markers from The Pencil Grip for an upcoming Homeschool Crew review. Watch for our full review in just about a month, and I wouldn't be a bit surprised if there will be a more few things on my Virtual Fridge using these markers between now and then!
We've previously reviewed
Kwik Stix
solid tempera paints (tempera paint in a marker container):
Kwik Stix Solid Tempera Paints (A Schoolhouse Crew Review)
and
Thin Stix
(solid tempera markers with a finer point):
Creativity With Kwik Stix (A Homeschool Coffee Break Review).
Now it's your turn! Join us by sharing your art posts here on the Virtual Fridge, and please grab our button for your post to help spread the word!
Grab a virtual magnet and add your link here to share your child's art or your arts and crafts how-to posts. Please visit the other blogs and admire what's on their Virtual Refrigerators!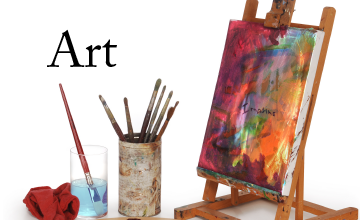 Art Courses at SchoolhouseTeachers.com




Don't miss a coffee break!
Subscribe to Homeschool Coffee Break by Email!
©2006-2018 Homeschool Coffee Break. All rights reserved. All text, photographs, artwork, and other content may not be reproduced or transmitted in any form without the written consent of the author. http://kympossibleblog.blogspot.com/
We are a participant in the Amazon Services LLC Associates Program, an affiliate advertising program designed to provide a means for us to earn fees by linking to Amazon.com and affiliated sites.