This post may contain affiliate links - using affiliate links from Homeschool Coffee Break helps fuel this blog and our homeschool - thank you!
In our homeschool... This was a pretty good week, with progress in all subjects, except that Landon wasn't able to do Algebra this week. We're still trying to figure out how to get it done when internet issues get in the way of the video lessons working smoothly.


In other news...
the week started out with mild weather, and although we were rushed as usual on Tuesday, we did have some fun for St Patrick's Day. Kennady's choir had a fundraising day at Chipotle on Tuesday, so it was a little odd to have burritos for dinner when usually it's corned beef on the menu, but we rolled with it! After all, we'd had our Lucky Charms for breakfast!
On Thursday evening, Kennady and I went to another Ladies Theme Night at church. This month our theme was Breakfast, so most of us attended in pajamas, and the menu was things like pancakes, breakfast casseroles, sausage, and muffins. Lots of fun for all.
Friday - yesterday - was the first day of spring, but someone didn't give that memo to the weather, apparently. This was on my desktop:
and this was outside my window:
I'm not even sure whether the area schools were on delay or if they took a snow day, but WE didn't!
Nothing from our insurance company yet, but our contractor came by to assess what reconstruction work needed done, and I've got an appointment with the gentleman who'll be doing the floors for next week. In other words, I need to nail down an amount from insurance before then, so we know what we have to work with when we choose the flooring and decide whether to do just the living room or have new flooring put in other parts of the house as well.
Things that made me smile...
Kennady brought her guitar to the dining room to practice one day while I was working in the kitchen, and she and I had a fun time of singing worship songs together.

34 Weeks of Clean...
I'm participating in a weekly challenge and link-up at
Family, Faith, and Fridays
and this week's assignment was the Bathrooms. We had time to do some of the tidying, but haven't finished this task yet. I think I'll post an update in a few days, when I have pictures of the finished work. I took "before" pictures in my bathroom (talk about a humbling experience!) but haven't got "after" pictures yet. I didn't even inspect the kids' bathroom after I gave them instructions on cleaning it - I will need to do that today, I guess!
So this is the main bathroom that guests would see - a powder room, I suppose, but it's quite a bit bigger. My oldest son is responsible for maintaining and cleaning this one on a regular basis, and it looks like he has done his job this week. I did need to properly dust the shelves though.
That bathroom is home to this linen closet, which is a disaster. Guess what I'll be doing this week...
Speaking of disasters... this is the "before" picture of the counter in my master bathroom. To save my reputation, I will now have to post my "after" picture within a couple of days!
For Week 12, our assignment will be the family room and our DVD collections. For the details of the assignment, go to
Family, Faith, and Fridays
. Join in if you haven't already, and check back next week for our progress!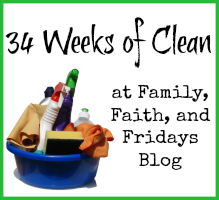 On the bookshelf...
Brigid of Ireland
by Cindy Thomson
As You Wish: Inconceivable Tales from the Making of The Princess Bride
by Cary Elwes
The Tutor's Daughter
by Julie Klassen
I finished
The Disappearance of Georgianna Darcy
by Regina Jeffers, and posted my review on my book blog,
Just A Second.
A parting shot...
©2006-2015 Homeschool Coffee Break. All rights reserved. All text, photographs, artwork, and other content may not be reproduced or transmitted in any form without the written consent of the author. http://kympossibleblog.blogspot.com/