This post contains affiliate links - using affiliate links from Homeschool Coffee Break helps fuel this blog and our homeschool - thank you!
After so many years of homeschooling, I've had plenty of opportunities to try curriculum and explore all kinds of resources, so during this Blogging Through the Alphabet tour, I'm highlighting some of the many homeschooling resources that have been stand-outs. Sometimes it will be a walk down memory lane as I share something we enjoyed many years ago, and sometimes it will be something we're using currently. Sometimes I'll focus on a specific curriculum, and sometimes on a subject area. And I imagine I'll have to be a bit creative with a couple letters of the alphabet! This week I had to take some liberties with spelling, as I feature resources from the
Institute for Excellence in Writing for the letter X.
We have been extremely lucky in being able to review curriculum from Institute for Excellence in Writing several times. And everything we've used from them has been excellent in every way. Our most recent review was last year, when we tried out the

updated

High School Essay Intensive.

In this essay writing workshop, students focus on developing skills they'll need for college. Not just for college level writing, but also for writing the essay portions of the SAT and ACT, and even for writing the kinds of biographical essays that accompany college applications.
Students continue to add to the
IEW
Structure and Style writing model, adding more sophisticated writing tools to their toolbox, and building confidence in their ability to succeed. As usual,
Andrew Pudewa's clear and engaging lecture style delivers lots of practical instruction in a very encouraging tone. It's easy to understand, and his sense of humor makes it enjoyable too. This Essay Intensive package came with the Essayist version of a wonderful invention called Portable Walls. The Essayist version has extra reference helps for high school and college-bound students.
The general guidelines and strategies in Part One and the Personal Essay instruction in Part Four are valuable for all high school students, whether they are college bound or not. The video lessons specific to the ACT and SAT are also very practical, breaking down what can be an intimidating assignment into understandable parts so the student can feel well-prepared.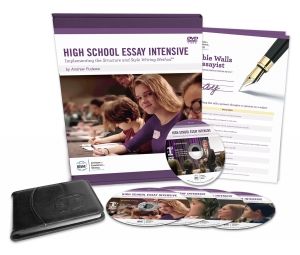 Read our full review here: High School Essay Intensive
Earlier in our homeschooling years, we reviewed and used the Student Writing Intensive Level B and Level C, as well as Fix-It! Grammar. When Landon was starting Grade 9 and Kennady was starting Grade 7, we got our first opportunity to try IEW curriculum by reviewing the Student Writing Intensive Level B.
I saw significant improvement in their writing, and perhaps more importantly, in their attitude towards writing. With this method the students learn structure by making an outline of key words from a provided paragraph or sample, and then rewrite the essay or story in their own words using the outline they've made. It's great because the kid doesn't need to come up with something to say as well as say it in an interesting way. They can focus on one thing at a time. Landon learned to write solid and descriptive paragraphs without it taking all day. Kennady learned to stick to an outline and be more concise, but could still use her creativity to advantage. They both had fun challenging each other to come up with strong verbs and avoid the "banned words".
Read our full review here:
Student Writing Intensive Level B
Then awhile later, we reviewed the
Student Writing Intensive Level C, along with Fix-It! Grammar
. By this time, Landon was finishing up Grade 10 and Kennady was finishing Grade 8. They both used the Writing Intensive course, and Kennady used Fix-It! Grammar.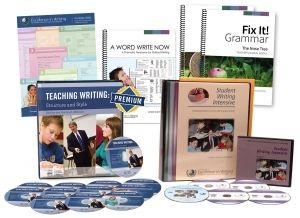 The package included the Teaching Writing: Structure & Style DVD set and Seminar workbook for the teacher/parent. It's a set of twelve DVDs - nine are the TWSS seminar and three are student demo DVDs. The Student Writing Intensive DVD set Level C is for high school level students, and it made it so easy for us to do a quality writing class. Andrew Pudewa does the teaching via the DVD, which we all found entertaining, and obviously educational! Kennady liked using vocabulary effectively and structuring her writing well. Landon was always a reluctant writer, but was fine practicing his writing skills without having to come up with his own material all the time.
We very quickly fell in love with the Fix-It! Grammar books, and Kennady continued to use them for all of the next school year. It's such a painless way to learn grammar, especially for story lovers. Students just look for the errors in the provided story, sentence by sentence, and correct them. Along the way they learn about parts of speech and their functions.
Read our full review here:
Student Writing Intensive Level C and Fix-It! Grammar
Start by listening to or viewing
Nurturing Competent Communicators
, which is a workshop that explains why memorizing poetry can have a positive impact on a student's vocabulary and writing; and why memorization and recitation used to be such an effective educational tool.
The program makes it easy for parents to help their children memorize poetry. There's a kid-friendly student book full of carefully selected poems, along with CDs of Andrew Pudewa reciting each one. Students learn by reading and by hearing the poems. Just being able to listen to poetry recited by Andrew Pudewa made this super appealing to us, and Kennady and I had a lot of fun memorizing the poems together and challenging each other to see who could learn faster or deliver the best recitation.
Read our full review here:
Poetry Memorization with Institute for Excellence in Writing
)
This post is part of a
#breakthrulinkup
at
Breakthrough Homeschooling
- Join us! This post is also linked at the
Encouraging Hearts & Home Blog Hop
hosted by
Apron Strings & Other Things;
and at the Homeschool Linky Party on the Homeschool Review Crew blog.
Don't miss a coffee break!
Subscribe to Homeschool Coffee Break by Email!
©2006-2018 Homeschool Coffee Break. All rights reserved. All text, photographs, artwork, and other content may not be reproduced or transmitted in any form without the written consent of the author.http://kympossibleblog.blogspot.com/
We are a participant in the Amazon Services LLC Associates Program, an affiliate advertising program designed to provide a means for us to earn fees by linking to Amazon.com and affiliated sites.