This post contains affiliate links - using affiliate links from Homeschool Coffee Break helps fuel this blog and our homeschool - thank you!
Welcome to the Virtual Refrigerator art link-up! Thank you for joining me and my co-hosts as we all share what we're creating in our homeschools. We all cordially invite you to add your link sharing artwork that's on your Virtual Refrigerator and then hop over to the other blogs and admire what's on their Fridges too! The Virtual Fridge link-up is open all month, and we plan our anchor posts for each Wednesday.
This week I'm sharing a project Kennady did one day last week using the free sample tutorial on
Creating A Masterpiece
. I asked her to test out the sample as the
Homeschool Review Crew
was getting ready to review these online art lessons. Needless to say, she and I both hoped we'd be on the team of reviewers that would be giving this a try, and we were both quite excited to find out that we are. In fact, Kennady has already picked out the first couple of projects she'll want to do and given me a supply list.
Mountain Lake in soft pastel by KAT, January 2017
I think it's a safe bet that you'll be seeing other
Creating A Masterpiece
projects shared on the Virtual Fridge over the next several months, from us and I suspect from other Fridge participants as well! I'm looking forward to seeing what everyone is working on! (And make sure to stop by the
Homeschool Review Crew blog
the week of March 20th to see all the reviews!)
Now it's your turn! Join us by sharing your art posts here on the Virtual Fridge!
Yeah, I've still got the new button on
my To-Do List!




Grab a virtual magnet and add your link here to share your child's art or your arts and crafts how-to posts. Please visit the other blogs and admire what's on their Virtual Refrigerators!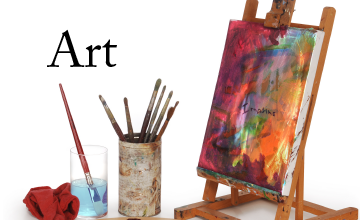 Don't miss a coffee break!
Subscribe to Homeschool Coffee Break by Email!
©2006-2017 Homeschool Coffee Break. All rights reserved. All text, photographs, artwork, and other content may not be reproduced or transmitted in any form without the written consent of the author. http://kympossibleblog.blogspot.com/