This post contains affiliate links - using affiliate links from Homeschool Coffee Break helps fuel this blog and our homeschool - thank you!
Homeschool news . . . Thankfully, we were able to be home during the days (except for Tuesday, which is normal) this week, and that made it much easier to concentrate on schoolwork and get things done. Kennady worked on History, Health, Science, and (reluctantly) Math.

After some discussion, we made one change to how we've scheduled her schoolwork. She prefers to focus on one subject and just plow through that rather than doing a little bit of everything every day. So . . . since she has already been working hard at getting through the Health text, we decided that we would hold off on starting The Power in Your Hands (her Composition curriculum) until she is finished with Health. Also, for now she'll be doing Science only one or two days a week. I'm not sure how long that will work out, but for the first couple of units we're pretty sure it will. Math is her least favorite and most troublesome subject, so in order to help her retain what she learns I am insisting that she work on that every day. And of course the Notgrass course is designed for five days a week and we are sticking to that schedule as much as we are able. We'll see how it goes for the next few weeks!
Other news . . .
We had a great weekend, going as a family (and taking along one of Landon's friends) to the UpRise music festival in Shippensburg. We all enjoyed the concerts, and Kennady was very excited to be able to get her picture with members of Family Force 5 and get autographs from them and from the band Disciple. She got those autographs on one of her vintage records, and apparently the guys were a bit reluctant to write on the vinyl as they joked that it would ruin the value of the 98-year-old record!
Then our week was pretty much the standard routine of work, school, CAP, and music. Regular midweek activities started at church this week, so the kids were glad to be back at youth group.
It was a great week for mail - I'd ordered a Blue Jays t-shirt and hat for myself and that package arrived; and then a couple days later, my new Fire HD8 arrived!
The kids leave the stickers on their hats for some reason, but I'm old school
and take them off. ;-)
Thank you for the warm welcome, Fire!
What's Important . . .
Setting goals and evaluating our students' progress with more than just academics in mind. (Read more
HERE
.)
And knowing that our mission as homeschoolers is primarily to disciple our children and give them a strong foundation in Biblical truth. (Read more
HERE
.)
I recommend . . .
stopping by
The Homeschool Post
, where this month's focus is on homeschooling for free (or at least keeping your cost down!). My contribution,
5 Strategies for Stretching Your Homeschool Dollar
, appeared this week.
One excellent source for curriculum and homeschool resources is
SchoolhouseTeachers.com
. Considering that you get access to over 250 courses for all grades and in all subject areas, that's a great way to keep your homeschool costs low! And especially through the end of this month, when they are offering a special pricing deal.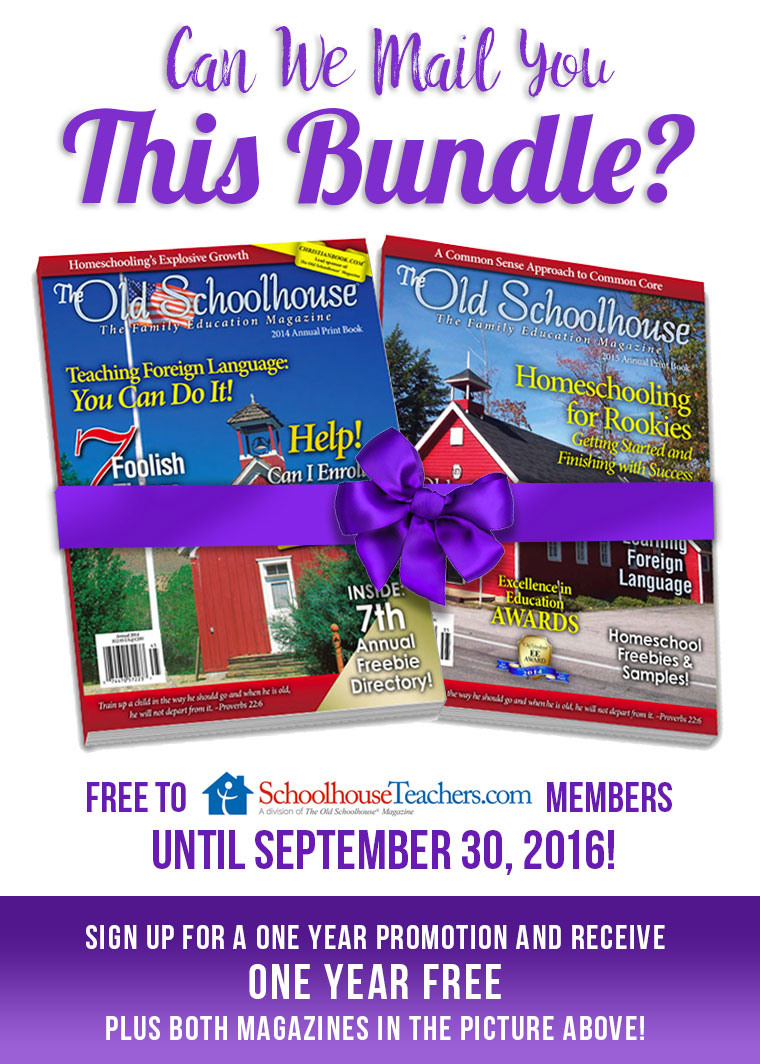 On my blogs last week . . .
Here on Homeschool Coffee Break:
52 Lists #38 - Our Family Traditions
Virtual Refrigerator - Autumn Art
Strategies for Stretching Your Homeschool Dollar on The Homeschool Post
Book Review: The Pray-ers
From the High School Lesson Book - Setting Goals and Measuring Success
And on my book blog,
Just A Second
:
Recent Reads - The Pray-ers
(Not So) Wordless Wednesday - Record Collection
Teaser Tuesday - Caught in the Middle
What I'm Reading - September 19, 2016
Scripture and a Snapshot - Study the Works of the Lord
Just A Second
is where I share book reviews and other book-related things, and update on what's on my bookshelf. This week I finished and reviewed
The Pray-ers, Book One: Troubles
by Mark S. Mirza
; and I
've been reading:
The Pharaoh's Daughter: A Treasures of the Nile Novel
by Mesu Andrews
Caught in the Middle
by Regina Jennings
A Tapestry of Secrets
by Sarah Loudin Thomas
A parting shot . . .
Yesterday was the first day of fall, so I thought it would be okay if I had maple leaf cookies for breakfast.

Don't miss a coffee break!
Subscribe to Homeschool Coffee Break by Email!
©2006-2016 Homeschool Coffee Break. All rights reserved. All text, photographs, artwork, and other content may not be reproduced or transmitted in any form without the written consent of the author. http://kympossibleblog.blogspot.com/